Altes Museum
Sunday, March 7th, 4:38PM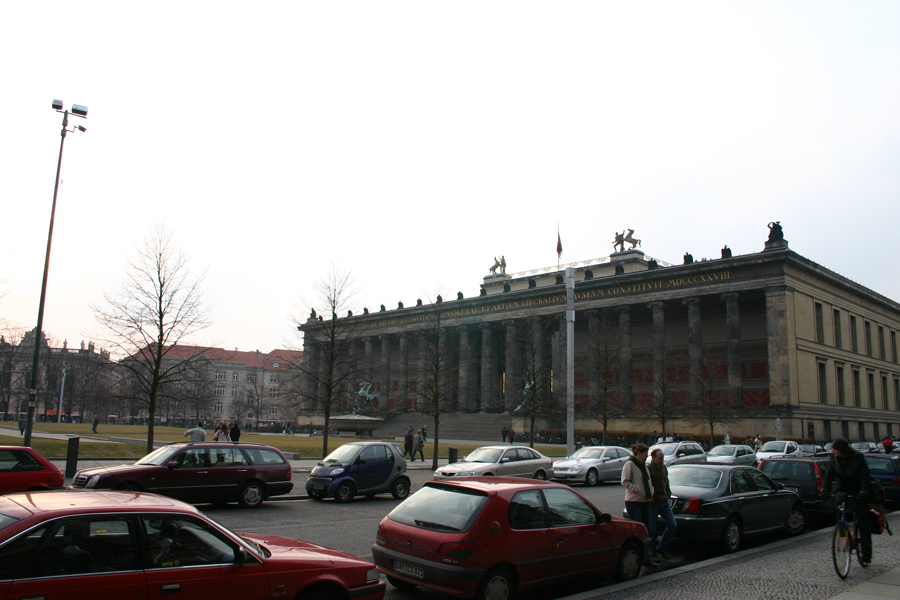 The Altes Museum. Written along the top is:
"FREDERICVS GVILLEMVS III STVDIO ANTIQVITATIS OMNIGENAE ET ARTIVM LIBERALIVM MVSEVM CONSTITVIT MDCCCXXVIII"
I've never studied Latin, but we guessed this meant: "Friedrich Wilhelm III's Museum for the Study of All Varieties of Antiquities and Liberal(?) Arts, founded 1828."
Anyway, check out the Smart Car parked on the street. It's the one the size of a hard-top bumper car. These little dudes are also all over Berlin -- which I think is really cool. My belief is that cars are the size they are mostly because of cultural expectations. Meaning, today there's no technological reason most vehicles couldn't be this size except that people would find them "weird." (Especially Americans, to brazenly invoke a harsh cultural over-generalization.) Imagine what would happen to feul consumption and gridlock if 90% of vehicles were cut down to half their current sizes and weights...
I thought there should be a slug-bug sort-of game to go along with spotting one of these, but we couldn't come up with anything good.