Kaiser Wilhelm Gedächtniskirche
Wednesday, March 10th, 2:28PM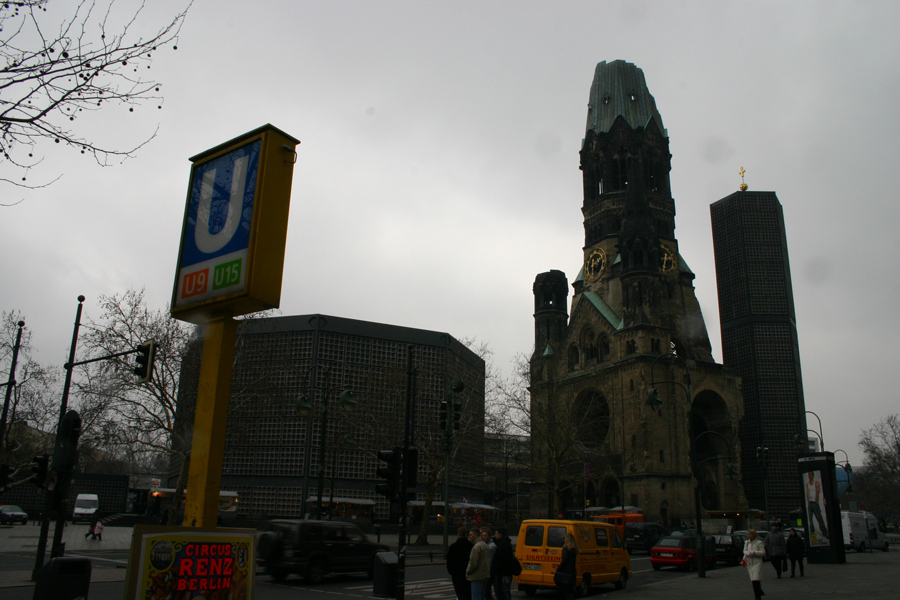 I remember this monument specifically from the last time I visited Berlin (ten years ago). During the late nineteenth century a very precise, angular, and quite graceful cathedral was built here. When the Allied forces bombed Berlin buring the war, they knocked over most of the structure, leaving just the main tower, sheared off at the top. Instead of completing the destruction, after the war the remains of the building were strengthed and left as a stark memorial.
I visited the small museum inside the cathedral and looked at the remiaining mosaic and fresco work inside.
The two dark, blocky buildings on either side -- one tall and skinny, one squat -- are the new parts of the church. Services are still held here.
And though they're fairly dull from the outside, I quietly took a look inside the shorter building and found a beautiful chapel. Each of the squares on the outside of the buildings has blue glass inside, so the interior of the building looks a radiant deep blue -- very peaceful.