Checkpoint Charlie
Thursday, March 11th, 1:26PM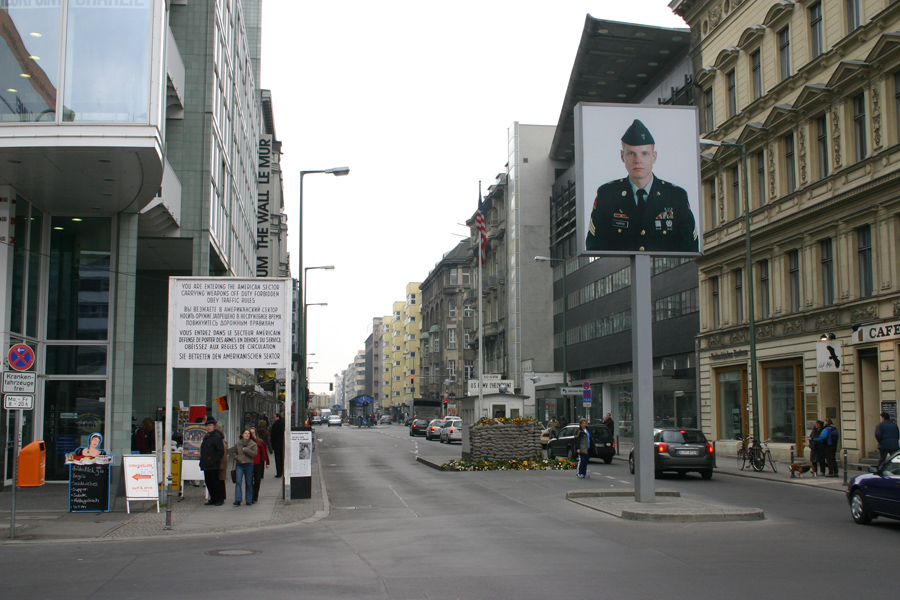 The streets around Checkpoint Charlie have been completely filled in by office buildings and cafés. Only the "You now entering" sign and the guard's booth remain. And a lined made out of bricks indicating where the Wall used to stand, just a few feet behind where I took this photo.
A museum inside the buildings on the left has exhibits featuring stories of creative attempts to cross the border (by hot-air balloon, by tunnelling, by fitting inside of all sorts of configurations of luggage), art describing the emotional impact of living in a riven city, and histories of the "liberation" of East Germany and other former eastern-bloc states from their Soviet overlords.
I found these last exhibits the most interesting and had a good time looking over the stories of the liberations of Poland, the Baltic states, and Romania. As a child of the eighties, Solidarnost, Lech Walesa, Gorbachev, and the Berlin Wall form some of my earliest memories of international political news. A fascinating period of time.
I had to cut this short so I could grab the next metro back to Brenna, though. I was, surprisingly enough, running a bit late...