The Dining Room
Sunday, March 7th, 1:36PM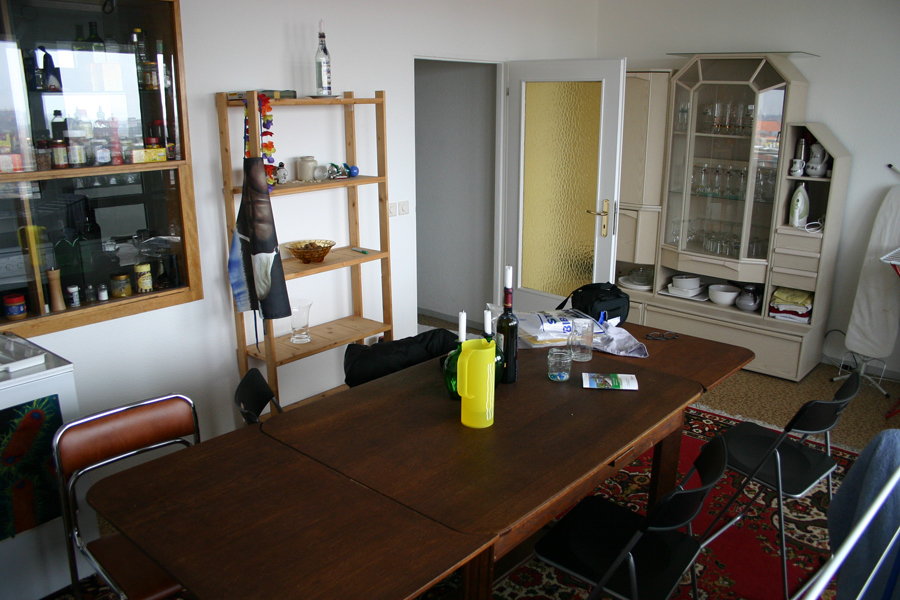 Brenna had woken herself up (from sleeping in this room) and finally pulled herself into the shower so we could get going. While waiting, I photodocumented the flat a bit.
This is the dining room. We only ate in here once, a few days later, with Brenna's flatmate Katrina(?) and her boyfriend who, though German, spoke moderately good English with a thick Australian accent after having learned the language while working as a chef in that country.
You can see the great view into central Berlin reflected in the window between the dining room and kitchen and in the glass of the cupboard. The whole apartment had that distinctly studentish decorating scheme of tons of stuff piled around haphazardly with the occasional dirty or weird poster or object d'art. Note the mini-fridge in the bottom left has a photo of bacteria on it. And note the apron hanging on the shelf in the middle with the image of a rather well-endowed gorilla printed on it. In one of the bathrooms a very cheezy Carmen Elektra poster hung, and in the living room hung more microscopic photos of little creatures, including pubic lice.
Yup.