The Train to Prague, Finally...
Thursday, March 11th, 5:57PM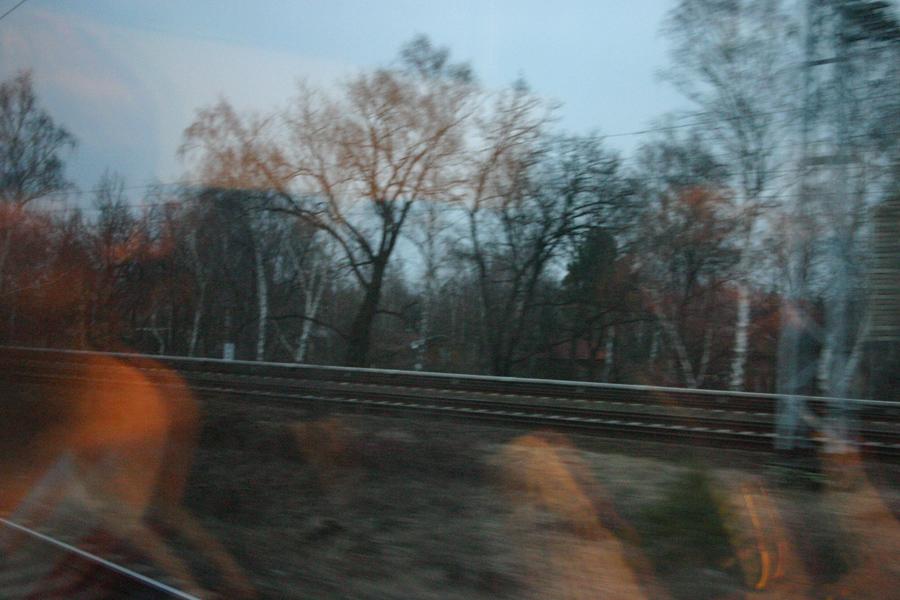 Yeah. So I don't believe Brenna or I have the best internal clocks.
We reserved a couple of seats the previous day for a train leaving around 5:00PM. With a five hour ride, we'd get to Prague at about 10PM, with just enough time to get situated at the hotel and wander around a bit.
Well, I showed up later than I though (like forty-five minutes before the train was to leave). And Brenna had to finish her shower and get herself packed to go. So. We flew out of the flat at about T-minus-twenty-five minutes, bitched at the extremely slow commie elevator as it took us down to the ground, and ran down the block to the Greifwalder station with our huge packs on. Through the flea market shown earlier. Through traffic.
Maybe I'm a bit out of shape, but a three-hundred yard sprint with thirty pounds of backpack bumping up and down pretty much took it out of me. We got a respite when the S-bahn train finally showed up to take us to the Ostbahnhof. We then took off again, sprinting the rest of the way to the train tracks. Getting lost in the station briefly before finally getting to the right track about five minutes after the train had left.
Well, crap.
Anyway, we headed back down to the ticket office and waited in line again to see what we could recover from our missed tickets. I grabbed a couple of milkshakes for us from a sassy local establishment called "McDonald's" and felt relief that, at least, my time spent dashing encumbered around Berlin had ended for now.
We lost the money on the tickets, but we got another pair for a train leaving about an hour later which we had no problem getting to on time. This had blown Brenna's budget for the month, so I agreed to pay for the hotel in Prague (a fair trade in my book, considering the amount of money she had saved me by letting me invade her space).
We killed our time at the Ostbahnhof checking e-mail at a crappy little internet café on the second floor.
On the trian I cracked into the copy of Ignorance by Milan Kundera that I had bought especially for this trip. (Milan Kundera is a Czech writer whom I really enjoy reading.) And I took a couple of shots out the window of moving trees and whatnot as the outside darkened and turned into night.
We took a moment to watch Dresden as it passed us by. Not much to see from the train.