Glow Bowling
Thursday, March 11th, 11:14PM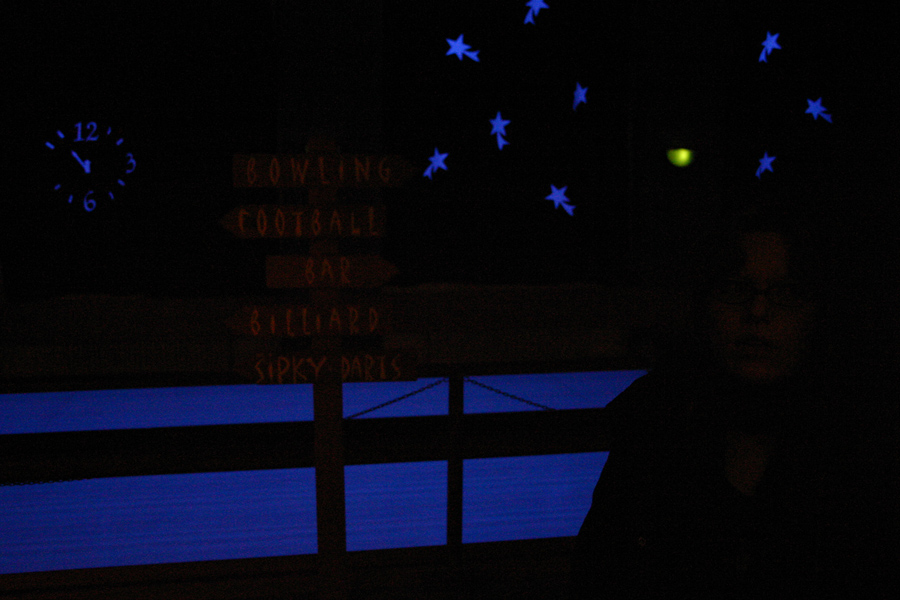 Before leaving Berlin, I made some reservations at the Hostel Junior in Prague. It seemed conveniently located near both the train station and the parts of Prague we wanted to check out (the Stare Mesto, old city).
So we got into Prague and made our way out of the rather gloomy train station and through a couple of rather dark, gloomy streets over to the Hostel Junior. At this point I had a really odd vibe about Prague. At 11PM it felt very desolate and a bit dangerous. Disorienting. To me, anyway. We got to the Hostel and, of course, they had no record of our reservation so we just paid for a room right there and went back to drop our stuff and plan the next move.
That move turned out to be visiting the bar in the basement of the hostel. (Hostel Junior was, by the way, not really a hostel. It was a small hotel. Quite nice, actually.)
So, we walked down the winding stairs and this greeted us: a funky sign and two glow-bowling lanes. Heard of glow-bowling? Think of bowling in the darkw ith only black-lights causing the lane and bowling balls to fluoresce. For people who like to blend psychedelia with, well, bowling. You can get your glow-bowl on at the University of Texas Student Union some weekend nights, if this sounds interesting.
Anyway, we didn't glow-bowl or anything, but it felt quite out of place on this side of the planet. I had it pegged as an American thing...
(Sorry the photo looks crappy. I'm not doing any photo-retouching on these shots. And I'm still learning to use my camera in difficult lighting situations (like glow-bowling alleys).)